[vc_row css_animation="" row_type="row" use_row_as_full_screen_section="no" type="full_width" angled_section="no" text_align="left" background_image_as_pattern="without_pattern"][vc_column][vc_column_text][/vc_column_text][vc_column_text]
Thank You For Your Purchase. Your Book Is On Its Way!
(If you ordered an e-book, be sure to check your junk/spam folder if you don't receive an email in your inbox)
[/vc_column_text][vc_empty_space][vc_column_text]
TAKE ADVANTAGE OF THIS SPECIAL OFFER!
Get 5 Books For The Price of 2!
[/vc_column_text][vc_empty_space height="25px"][vc_column_text]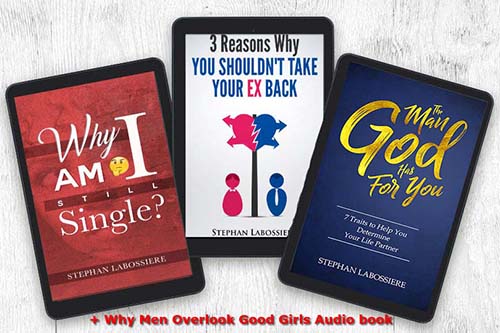 [/vc_column_text][vc_empty_space height="25px"][vc_column_text]
ONE TIME OFFER – 10x your relationship ebook bundle includes 4 of Stephan's best selling books plus a premium audio teleseminar on "Why Men Overlook Good Girls", and what to do about it. For a total of 5 books. (This offer is not available at ANY other time or place). All of this for only $19.94. (Valued at over $59 dollars)
[/vc_column_text][/vc_column][/vc_row][vc_row css_animation="" row_type="row" use_row_as_full_screen_section="no" type="full_width" angled_section="no" text_align="left" background_image_as_pattern="without_pattern" css=".vc_custom_1408387177318{margin-top: 0px !important;}"][vc_column][vc_empty_space height="25px"][vc_column_text]

[/vc_column_text][/vc_column][/vc_row]